Miles of pristine, uncrowded beaches to explore. An entire ocean of warm, clear water simply waiting for you to dive right in. And an endless amount of crisp, fresh ocean air to breathe. A trip to Scenic Highway 30A is the ultimate autumn getaway!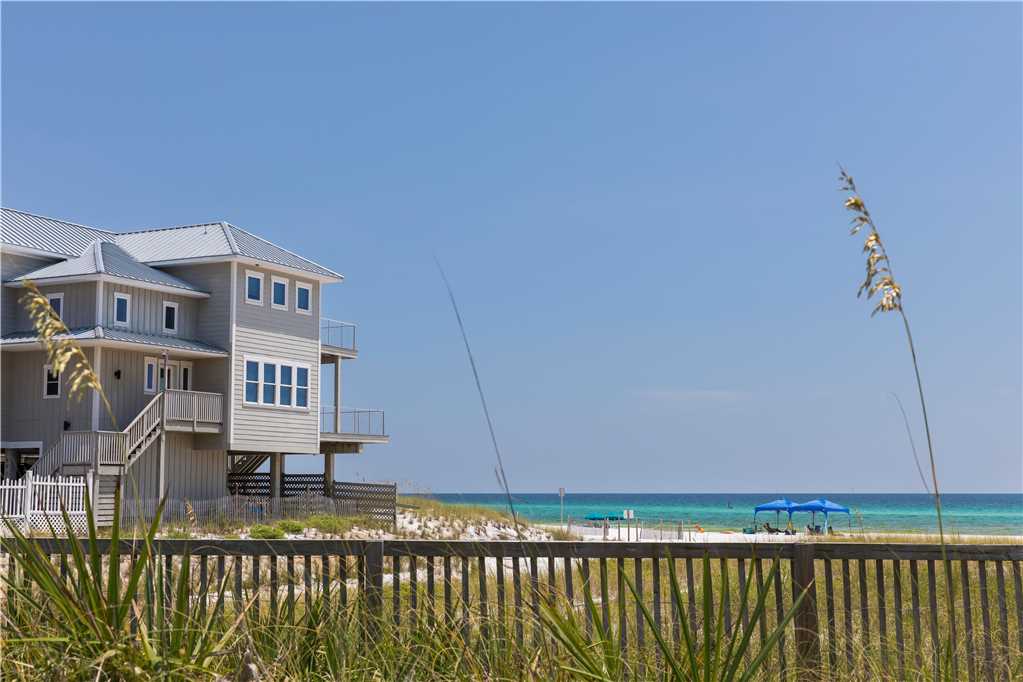 Within a day's drive of most of the southern states, South Walton is an amazing spot to bring your family for an unforgettable time at the beach. And Dune Allen Realty has just the place to bring the whole family. In fact, we have many to choose from!
The following 30A retreats have plenty of space for your entire crew to spread out, relax and recharge. Pack up your flip flops and a few good books and plan a stay today at one of these flawless holiday homes by the sea.
Mas Mojitos Luxury Vacation Rental
Elegant design, casual beachy vibes, and location perfection come together to create the quintessential South Walton vacation home at Mas Mojitos. With a private pool and sleeping space for up to 16 of your closest friends and family, Mas Mojitos has room for everyone to enjoy an unforgettable trip to South Walton. There's even a convenient elevator!
In the backyard, your own private tropical oasis awaits. Take a cool dip in the sparkling pool with a waterfall feature. Practice your putt on the manicured green. Or read a book and soak up the 30A sunshine in one of the chaise lounge chairs. The backyard space is surrounded by mature trees and has a lovely, secluded feel. An outdoor kitchen space with a gas grill, full-size refrigerator, and two outdoor dining tables allow you to enjoy many alfresco dinners under a pastel pink South Walton sunset. So mix up a pitcher of frosty mojitos, kick off your flip flops, and relax into this impeccable 30A holiday home.

30A Fish Camp Beach Home
Don't let the modest name fool you—30A Fish Camp is actually a sprawling and exquisite 6-bedroom beachfront home. Located right across the street from the Dune Allen beach access point, your whole family will fall in love with this "camp" that's actually a luxurious yet laid-back oceanside oasis.
From the moment you arrive and take in the magnificent three-story facade, you'll know you've landed someplace special. With panoramic views of the sparkling Gulf of Mexico and calm Allen Lake, a stay at 30A Fish Camp is a truly serene experience. There's also sleeping space for up to seventeen people—so there's plenty of square footage to spread out.

A Shore Thing – Six Bedroom Rental
Round up your whole crew and let them know you've found the perfect spot for a 30A getaway. A Shore Thing has six spacious bedrooms—each with their own attached bathroom—making it ideal for couples and families. The delightful private pool creates a backyard retreat that feels like a five-star luxury resort—complete with a waterfall feature and tons of lounging space to soak up the South Walton sunshine.
When your crew is ready to get sandy, the Dune Allen Beach access point is just a hop-and-a-skip across the street. Two spacious balconies offer plenty of space to relax with a cup of coffee in the morning or a glass of wine at twilight while you gaze out at the magnificent views of the Gulf of Mexico.
About Time – 30A Vacation Rental Home
Your whole family will fall head over heels for About Time—a four-bedroom holiday home with simply spectacular views of the Gulf of Mexico from every room. Two of the four bedrooms are master suite sanctuaries, making About Time ideal for big groups that are still looking for privacy.
Specifically designed with large families in mind, About Time has an enormous, beautifully furnished living area that provides plenty of space for relaxing, reconnecting, and making amazing South Walton memories. There's also plenty of space to relax on your own with a cool drink and a good book. The sugary sand and warm coastal water are a few short steps away, as is peaceful Oyster Lake. When it's time to go exploring, the nature trails of Topsail Preserve State Park are just a short bike ride away on the Scenic 30A bike trail.
Beach Bliss
Tucked between the peaceful, rolling greens of the Santa Rosa Beach Golf Course and the warm turquoise waters of the Gulf of Mexico, Beach Bliss is a spectacular South Walton holiday home. With five immaculate bedrooms and 3.5 spa-like bathrooms, there's enough space here for everyone on your list to join your 30A vacay getaway.
At Beach Bliss, you'll have endless options for soaking up the South Walton fun. Head outside to your sun-drenched private pool and relax on the lounge chairs. Or, take a stroll across the street and sink your toes into the warm, sugary sand and crystal clear water that South Walton beaches are so famous for. Keep an eye out for dolphins! Beach Bliss even has a huge game room/TV room for the kids. Follow your bliss—and it will lead you straight to this serene vacation oasis.
Escape to South Walton
These five homes are only a small sample of the unmatched selection at Dune Allen Realty. From cozy beach bungalows to epic oceanfront estates, we have the perfect vacation home for your next trip to South Walton. Our local experts are always available to help guide you through all of the planning and answer any questions you may have.
Our touchless check-in and check-out procedures and rigorous cleaning standards will provide peace of mind during this time. And all of our homes are equipped with lightning-fast wifi for remote work or online lessons.
Get in touch with us today and start planning your next dream beach vacay to Scenic Highway 30A.